The 2019 Toyota Avalon Hybrid XLE FWD from your Newport Beach car dealerships is still one of the most efficient ways to transport up to five passengers in complete comfort. For 2019, it adds a bigger dose of refinement and style to its exciting package.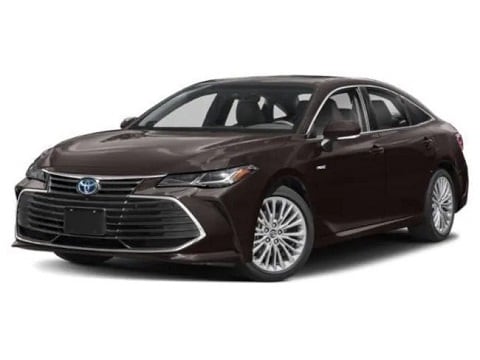 Fresh Exterior Design
The 2019 Toyota Avalon Hybrid XLE FWD has undergone a style revolution. The Toyota Avalon Hybrid sports a brand-new grille wrapping all around its front end. It also sits lower and wider thanks to Toyota's latest TNGA architecture. The hood is more compact, and the rear and front overhangs now look shorter as well. In all, the 2019 Toyota Avalon Hybrid has become more flattering from all angles, giving buyers an attractive, head-turning ride.
Upscale Interiors
Inside, the 2019 Toyota Avalon Hybrid XLE FWD is a beautiful blend of luxurious, modern, and athletic elements. The J-shaped panel featuring the console and center stack floats gracefully above the floor and the dashboard. Seats are as comfortable and supportive as ever, made even better by greater side bolstering.
Look forward to a more spacious trunk, plus expanded headroom and legroom for all occupants. Long journeys or quick drives, the 2019 Toyota Avalon Hybrid XLE offers a pleasant experience with every mile.
Boosted Performance
The 2019 Toyota Avalon Hybrid XLE from Toyota Fountain Valley dealers may be efficiency-focused, but it also offers an excellent balance of power and performance. This sedan combines CVT, a 2.5L 4-Cyl engine with two electric motors, and a Ni-MH battery pack to produce up to 215 horsepower.
Toyota also employs some clever changes to maximize drivability and efficiency. For instance, there's the Auto Glide Control feature that conserves speed even when engine braking. Numbers as high as 44 highway, 43 miles per gallon, and 44 combined are being projected for the 2019 Toyota Avalon Hybrid XLE.
Top-Level Safety
The 2019 Toyota Avalon Hybrid XLE FWD from your Toyota Newport Beach dealerships is fortified with first-class safety. Standard on the XLE trim and the rest of the line-up is the complete Toyota Safety Sense (TSS-S) suite of safety tech.
This includes advanced technology such as lane departure warning, automatic emergency braking, forward collision warning, automatic high beams, and adaptive cruise control. Sought-after features such as rear-cross traffic alert, blind-spot monitoring, and a reversing camera are also included.
The TSS-S suite has pretty much all the safety gear you could want in your sedan, but if you're looking for more upgrades, you can also add rear backup sensors, a panoramic camera system, and rear cross traffic braking.
Notable Equipment on 2019 Toyota Avalon Hybrid XLE FWD
The 2019 Toyota Avalon Hybrid XLE FWD is filled with outstanding features enhanced with value. Standard for the XLE are a 9-inch infotainment system with Android Auto, Apple CarPlay, and Alexa capabilities. You also get keyless access and start and a 7-inch instrument cluster LCD. No need to go offline on the road either: With wireless Qi charging, 4G LTE hotspot capability, and five USB ports, you're always connected on the go.
Take the 2019 Toyota Avalon Hybrid XLE FWD for a Drive Today!
Get your first look at the 2019 Toyota Avalon Hybrid XLE FWD here at South Coast Toyota! See why this hybrid sedan is getting rave reviews when you take it out for a spin. Call our friendly Sales Department at (949) 200-8242 to learn more.