The 2016 Toyota Prius HB Three Touring from Santa Ana Car Dealers Mixes Eco-Friendly Performance with Ambient Style
Looking for a pre-owned hybrid car? The 2016 Toyota Prius HB Three Touring from Santa Ana car dealers has to be on top of your list! After a few years on the market, the Toyota Prius retains a powerful advantage over other "green cars."
With stunning features and innovative technology, the Toyota Prius proves to be the total package.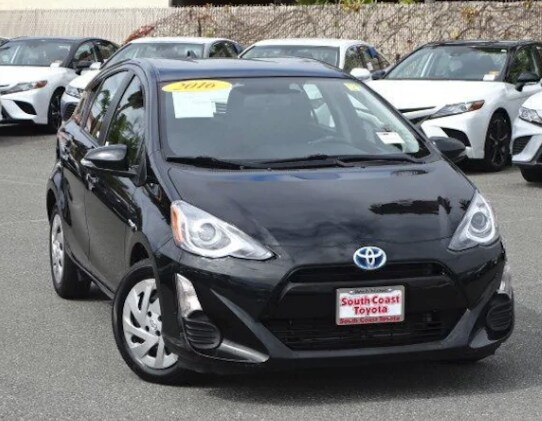 Eye-Catching Exterior
The exterior of the 2016 Toyota Prius HB Three Touring is just as enchanting as it was on its first release. It is covered with edges and sharp lines masterfully designed to imply a forward motion aura.
At the front end, the hourglass shape effectively separates the LED foglights from the headlights. It boasts of 17-inch wheels with two-tone black inserts that stare at you right in the face. Plus, the expertly crafted rear spoiler ensures that you'll always be looking forward to a ride in this hybrid vehicle.
Excellent Hybrid Powertrain
Three years later, the 2016 Toyota Prius HB Three Touring's powertrain is still a wonder to behold. Commanding the vehicle is a fantastic 1.8 L 4 cylinder engine, which makes excellent use of Atkinson cycle technology. Providing the Toyota Prius' green-powered edge is the hybrid electric motor all wrapped up in an amazing lithium ion package.
The engine can generate up to 95 hp and 105 lb-ft torque, while the electric motor can do 71 hp and 120 lb-ft of torque. Accompanied by an electronic continuous valve transmission (CVT) and a smooth front wheel drive (FWD), the Toyota Prius has an estimated MPG of 54/50 for city and highway driving. With these unmatched amenities, the Toyota Prius HB Three Touring proves to be one of the most fuel efficient cars out there.
Pleasant Indoor Scenery
One glance inside, and you would know why the 2016 Toyota Prius HB Three Touring is a gem among vehicles from Santa Ana used car dealers. The cabin is comfortably spacious and simple, yet sleek. The seats are covered in lush, black sofTex leather, complete with blue stitching, giving the indoors an unmistakably classy feel.
Just like the seats, the steering wheel is also wrapped in black softTex leather. What's more, the 7-inch touchscreen provides ambient infotainment, syncing perfectly with your phone for hands-free calls and app accessibility. It also connects to the backup camera, which allows for hassle-free parking. Plus, with a wireless charger and USB ports, there's no reason for you not to stay connected!
Advanced Safety Technology
The Toyota Prius takes pride in its Safety Star System, which ensures a safe and pleasurable journey for every driver and passenger. No more accidental swerves on your way to the office, thanks to the Prius Lane Keeping Assist. Keep your ideal speeds during rush hour traffic with Toyota's Adaptive Cruise Control. Lastly, get an extra hand in looking out for foot traffic with the Safety Sense's Brake Assist with Pedestrian Collision Alert.
Eco-Friendly Style in Motion
With everything at your disposal, the 2016 Toyota Prius gives you the ride you deserve. By taking out an already used hybrid, you do double duty for the environment while having fun on the road too. No other vehicle from car dealers in Santa Ana, CA can offer you this kind of thrill. Call South Coast Toyota and ask one of our assistants for a test drive!