Used car shopping in Santa Ana, CA is something that people do every day, but some do it with more confidence than others. That might be because they know more about cars, or it could be that they have been through the process multiple times, so they know what to expect.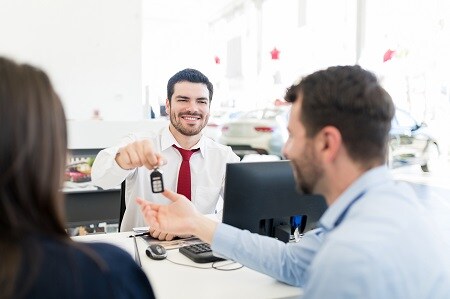 If you're one of those who goes to the car dealers with a feeling of trepidation, then it may be best if you can go with a friend or relative who feels more at ease with car buying and negotiations. If that is not possible, though, you should still be able to get through it with no problems provided you take things one step at a time and have a clear idea in your mind of the vehicle and the features that you need.
Here are some questions that you will want to ask the car dealers in Santa Ana, CA, as you narrow down the candidates.
Has It Been in Any Reported Collisions?
Some dealerships might have a vehicle history report at which they will allow you to look, but you can also ask them about any relevant details related to the vehicle. For example, ask them if the car was involved in any previously reported collisions, or if there have been any modifications about which you should know. People sometimes modify vehicles in ways that aren't street legal, or their tinkering might have adverse side effects that will affect performance. You should also ask if the car has ever been hit with a salvage title. If it has, then it is highly likely you will want to disqualify it from consideration.
Have There Been Any Recalls for the Vehicle?
Some of the used vehicles that you'll find for sale in Santa Ana, CA have been subjected to a recall, but that does not mean that the problem was fixed. If you want to find out if the car at which you are looking is associated with any outstanding recall orders, you can get the VIN and put it into the National Highway Traffic Safety Administration recall database. That way you can know for sure and put your mind at ease.
The Mechanic Inspection
When shopping for used cars in Santa Ana, CA, you should always get the vehicle inspected by a mechanic, and you shouldn't let the cost associated with that persuade you to skip this step. It might cost as much as a couple of hundred dollars depending on how thorough of an inspection you want, but the money is negligible next to the risk you take if you buy the car without getting it done.
You should also leave immediately if the car dealers do not let you have the vehicle inspected for some reason. Any dealership should let you get an inspection, and if they refuse to do so, that is a sure sign that there is something wrong with the car or there is something underhanded going on.
Used car shopping is something at which you get better and more confident the more you do it. Once you have bought your first used car this way, you will likely feel a sense of pride, not just because of your new vehicle, but also because of the experience in which you have successfully participated.