HB Toyota buyers spend considerable time picking out the color of their cars, giving it as much importance as the features and car model itself —and with good reason. Color doesn't just affect the vehicle's aesthetics; it also has an impact on the car's resale value and more.
Not sure what color you want for your next ride? Get inspiration from the most popular car colors around the world!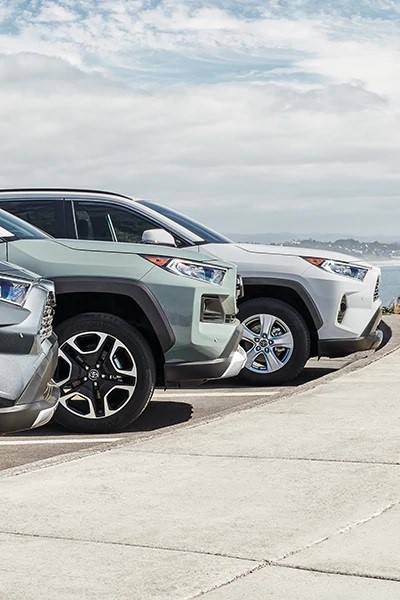 Top Car Colors Around the Globe
Leading car coating system company, Axalta, surveyed car owners around the world for its Global Automotive Color Popularity Report. Topping the list for the ninth consecutive year is white, chosen by 38% of consumers. Black landed in second place at 19%, while gray is third at 13%. Together with silver in fourth place, these four colors corner 80% of the global market.
While these classic shades dominate across the world, certain regions also have their own favorites. For instance, red cars are incredibly popular in North America. Russians are fond of beige and brown vehicles. While neutrals are still number one in Europe, gray has overtaken white as the continent's preferred color.
Grayscale Tops the Charts
No other colors have come close to the popularity of grayscale hues, namely white, black, gray, and silver. Some experts have presented theories behind this phenomenon:
Silvers and grays are thought to represent fascination with the latest automotive technology. They add a relaxed flair to practical sedans and highlight the edgy design of sports vehicles. Meanwhile, white and black are considered elegant colors and go beautifully with most makes and models.
Dark neutral hues are easier to maintain aesthetically. Dirt and mud stains are less noticeable on a black sedan from Santa Ana used car dealers than on a bright yellow one.
Although these classic shades continue to be the biggest stars, Axalta has also noticed a trend toward warmer colors in their survey. Blue grabbed 7% of the market, while orange and bronze are also starting to grab attention.
Not Just About Looks
Since depreciation is one of the biggest long-term expenses of motorists, resale value is a critical consideration when selecting your car from Newport Beach car dealerships. You need to factor in elements, such as the number of miles on the odometer, the car's condition, features, and overall resale history of the manufacturer and model.
However, it turns out that color can be a crucial element of resale value as well. According to a survey of 2.1 million used vehicles by iSeeCars.com, yellow cars bring in the highest returns. Orange also offers 7.8% resale values above average, followed by green.
In contrast, gold-colored vehicles command 12.1% resale value on the average. Other cars that take in a hit during trade-in are beige and purple.
Finally, the most common hues found in HB Toyota dealers, such as white, black, and grey, maintain average resale values. Since they are the most numerous options in any model line, used car buyers can bargain more with a greater chance of getting the exact features they want.
Explore Diverse Colors for New and Used Cars
At South Coast Toyota, you'll find used and brand-new SUVs, sedans, trucks, and other models in all shades and colors. Pick out your favorite or get a first-hand feel through a test drive. Call us today at (949) 722-2000 to learn more!