Innovate your road trips with the 2020 Toyota Prius from your local dealer of Toyota in Costa Mesa. As a revolutionary plug-in hybrid hatchback, it features a large, chargeable battery pack that enables you to drive longer using electricity. Like its predecessors, it efficiently alternates between gas and electric motors, serving up a performance that other hybrids can only dream of.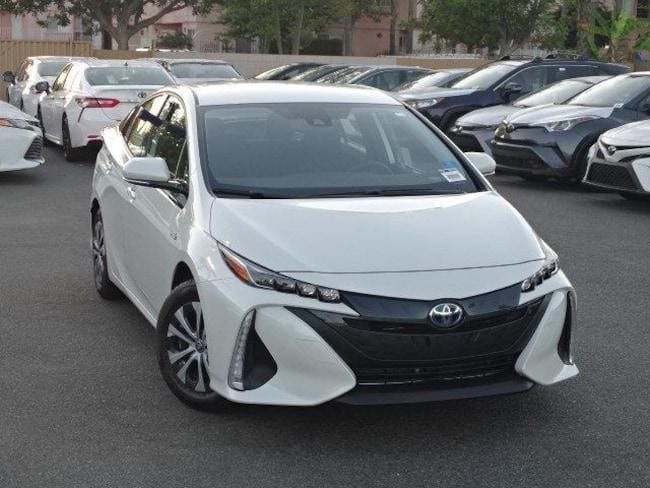 Green-Powered
The 2020 Toyota Prius Prime is an eco-friendly beast. It works with a dual-motor drive system that maximizes its capabilities. Make it your next everyday car to get great acceleration, exceptional fuel efficiency, and superb EV mode at full highway speed.
With its EPA-estimated 25-mile EV Mode, the 2020 Toyota Prius Prime can take you anywhere you want to go. Its hybrid engine can deliver an EPA-estimated 54 mpg even while low on charge, while its Plug-in Hybrid Vehicle (PHV) system can get you up to around 640 miles. This versatile hatchback also gives you additional control with the EV Auto Mode and HV Modes, which combine electrical power and gas engines to keep the car running.
Plush Exteriors
With a futuristic-looking exterior, the 2020 Toyota Prius Prime is the most visually striking hatchback from any of the Santa Ana car dealers this year. Its Quad-LED projector headlights are gorgeous. Its taillights are powered by LEDs that are brighter than most car lights and more energy-efficient. The hatchback is also equipped with underbody covers and side body fins that amplify its aura.
Also making a notable impression is its active front grille shutter. Additionally, the 2020 Prius Prime marks the debut of polymer that's reinforced by carbon-fiber, which makes the rear hatch rigid without weighing it down.
Modern Interiors
The cabin of the 2020 Toyota Prius Prime is definitely a step-up from its predecessors. One of the Toyota Prius Prime's updated features is the rear seating which can now accommodate up to three people. Its 60/40 split rear seats fold flat for better cargo space and versatility, while its 19.8 cubic feet of space is perfect for extra storage.
The 2020 Toyota Prius Prime from Toyota in Costa Mesa has an 11.6-in. multimedia display that allows for smartphone-like pinch and zoom gestures. Standard heated front seats also give you comfort right in the heart of the vehicle. This innovative hybrid vehicle also features a charging cable lock, JBL Premium Auto speakers for clear sound imaging during drives, and a Qi-compatible wireless charging function.
Exceptional Safety
The 2020 Toyota Prius Prime ensures safety with smart structure and cutting-edge technology. It is made up of increased torsional rigidity thanks to laser-screw welding and high-tensile strength steel.
Equally amazing is the 2020 Toyota Prius Prime's Blind Spot Monitor which illuminates the indicator in the side mirror. Its Rear Cross Traffic (RCTA) feature uses sensors for detecting vehicles at your rear, instantly alerting you by flashing signals on the side mirrors. It also comes with a Pre-Collision System, Automatic High Beams, Standard Full-Speed Range Dynamic Radar Cruise Control, and other safety functions.
Gear Up for an Eco-Friendly Drive!
The 2020 Toyota Prius Prime Hatchback from a Toyota dealership in Orange County promises to make hybrid car-driving a pleasure-filled experience. Fall in love with its eco-friendly performance, cutting-edge technology, and sleek design. Take it out for a spin at South Coast Toyota. Call (949) 722-2000 or fill out our contact form to schedule a test drive with one of our specialists!